Home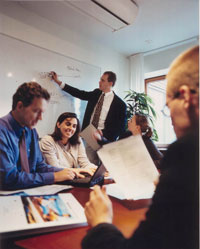 Call Us Now!
01424 854466
Our observations
----------------------------------
Consultant Profiles
Links


Role Models
Mid-level and primary level managers/supervisors often appear hesitant to embrace a different process of leadership because management above them exempts itself from learning the process with the attitude: "That stuff is fine for them. I don't need it; I already know all that." Top executives are viewed as role models; their behaviour cues the behaviours of the entire organisation.
Mid-level and first level managers/supervisors often give up trying to use a different approach to leadership because they receive no positive reinforcement from management above them. Reinforcement and encouragement is absolutely necessary to enable supervisors/managers to change their behaviour.
These observations plus more gave birth to POSITIVE LEADERSHIP PRACTICES© and are addressed within a truly fantastic learning process. Want more information about PLP? Contact us now!
Quick links

Home Page
Consultancy
Management Development
Interim Management
Technology (HRIS)
News
What our clients say...
"Thank you again for all your
help and support which
has been invaluable"
"Would recommend to others"
"Brings business knowledge
and understanding"
"We will really miss you enormously"
"Really pushed us forward"
"Kept the whole group
captivated"
"Enjoyable and informative"
"A massive thank you for
being imaginative with teaching"
"The techniques used will
ensure we remember"
"The trainer's style was
very helpful"
"Graham was very
approachable and built
my confidence"
"A day full of relevant &
important information"
"A miracle has been
achieved on this
project"
"the project significantly
moved forward with
your help"